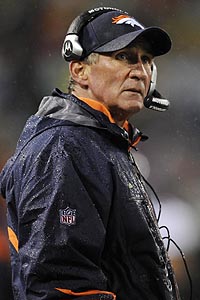 Dallas Cowboys owner
Jerry Jones
hasn't changed his mind about firing coach Wade Phillips, but Mike Shanahan would be the leading candidate if he ever does make a move, according to team sources.
Shanahan
's unexpected firing Tuesday by the Denver Broncos has prompted Jones to give "thought" to hiring Shanahan as the future Dallas coach -- even more so than Bill Cowher or Mike Holmgren -- but 2010 may be more timely than 2009, the sources said.
The story was first reported Saturday morning on ESPN's NFL Countdown show.
Jones and Shanahan have had a strong relationship and share a mutual admiration for Cowboys quarterback Tony Romo. Shanahan offered Romo more money than Jones did in 2003 when Romo was an undrafted free agent out of Eastern Illinois, Shanahan's alma mater.
Also appealing to Jones, Shanahan would not carry an exorbitant price tag. Because his contract had three years remaining, Broncos owner Pat Bowlen owes Shanahan $20 million. Any owner who hires Shanahan could pay him a lower salary than the estimated $7 million a year he's owed and Bowlen would be obligated to pay the balance of that "offset."
Jones has been committed to a third season with Phillips as head coach and Jason Garrett as offensive coordinator. Sources say the owner was particularly pleased with Phillips' work with the defense and doesn't want to interrupt that progress. The chance Jones could hire Shanahan and convince Phillips to remain as defensive coordinator is very remote, a source said. Shanahan replaced Phillips as head coach when he was hired in Denver.
If Garrett should land one of the head coaching jobs available now, it could influence Jones to reconsider his plans and approach Shanahan about joining the Cowboys for the 2009 season because of the offensive void left by Garrett's departure, a source said.
The same source added that Jones was growing "angrier by the day" because of the Cowboys' last two defeats -- to Baltimore and Philadelphia -- which left them out of the playoffs.
However, as noted, any proposed union between the Cowboys and Shanahan is more likely for 2010.
Shanahan
seemed to confirm the timing of his eventual return, regardless of the destination, when he told Peter King of SI.com and NBC on Saturday: "What I'm going to do is take a couple of weeks to sit back and relax a little, then consider what it is I'm going to do. Unless there's a perfect situation out there, I'd rather sit out the year and return next year."
However, as profootballtalk.com also reported Saturday, most standard NFL head coaching contracts contain a clause that the coach must "use his very best effort to seek other employment." It is unknown if Shanahan has that specific clause and many in the league doubt Bowlen would not honor the contract if the coach sat out.