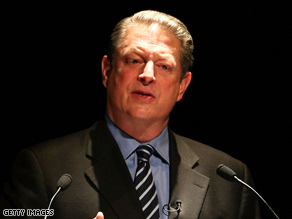 Could Obama be looking at Al Gore in his search for energy secretary and Environmental Protection Agency administrator?
One has to to wonder with Al Gore making to trip to Chicago to meet with President-elect Barack Obama and Vice President-elect Joe Biden Tuesday.
A spokesman for Gore flatly said last week the former vice president has no interest in serving the Obama administration.
Nonetheless, Gore's high profile visit to Chicago, Illinois, to meet Obama and Biden is raising eyebrows, even among some of Gore's close advisers.
"The Gore trip is for more than just a chat," a close friend of Gore told CNN's John King. "He wouldn't burn that much carbon flying to Chicago just to talk."
But a Gore appointment would almost certainly be greeted with celebration from members of the party's liberal wing, many of whom are still angry he lost the White House in 2000 despite winning the popular vote.
Obama's transition office says the meeting will focus on energy and climate issues